---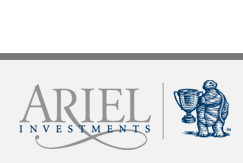 Ariel Investments
Since Ariel's founding in 1983, much has changed in the investment world, but a clear mission has consistently defined who they are and what they do.
They use the market's short-term focus to uncover mispriced companies whose true value will be realized over time.
They began as a small- and mid-cap value manager, and evolved strategically to offer three approaches - all of which seek out attractive intrinsic value through relatively concentrated portfolios.
Intensive fundamental research is essential to their proprietary investment processes. Ariel also values the importance of learning in a broader context and are committed to promoting education and financial literacy.