---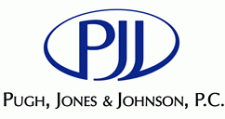 Pugh, Jones & Johnson, P.C.
Pugh, Jones & Johnson, P.C. ("PJJ") was established in 1991 to provide quality litigation and transactional legal services to clients who value timely solutions delivered efficiently and cost-effectively. They are one of the largest minority-owned and managed law firms in the Midwest and their lawyers are acknowledged leaders in their field.
PJJ provides legal services in complex civil and white collar criminal trials and appeals, municipal finance, complex commercial real estate transactions and other transactional expertise to corporations, governmental entities, institutions and entrepreneurs. They also maintain a full-service real estate practice with extensive experience in commercial real estate transactions.
In the public finance area, PJJ serves as bond counsel, co-bond counsel, special tax counsel, counsel to credit enhancement providers and issuer's counsel. They are listed in the Bond Buyer's "Red Book" as a firm of recognized municipal bond attorneys.