---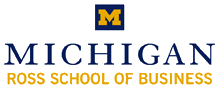 Ross School of Business at the University of Michigan
The Ross School of Business is committed to action-based learning, an approach to instruction that exposes both students and faculty to real-world challenges faced by actual businesses and organizations. The school's goal is to prepare graduates to lead diverse teams, consider the role of business in society, and build organizational cultures that foster innovation.
The school's highly ranked Full-time MBA Program offers a rigorous, two-year curriculum built on a foundation of analytical tools, quantitative skills, and world-class instruction. The first-year core concludes with the school's signature Multidisciplinary Action Project (MAP) course in which students work to resolve organizational challenges in sponsoring firms.
The school also offers an Evening & Weekend MBA program, an Executive MBA program, and a Global MBA program, in addition to Master's program in Supply Chain Management and Accounting, a Doctoral program in Business Administration, and a Bachelor's program in Business Administration.