---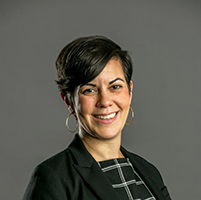 Eleanor Perrone Toriski
Chief Operating Officer
eperronetoriski@ccachicago.org
312-704-2037
Eleanor is Chief Operating Officer at Civic Consulting Alliance. She joined the organization in April 2018 as Principal, Development and Communications. She leads Civic Consulting Alliance's comprehensive fundraising, storytelling, and operational strategy.
Eleanor is a mission-driven leader with 16 years of experience in the social impact sector, a deep knowledge of the Chicago nonprofit, philanthropic, and educational landscapes, and a demonstrated dedication to equity in education and beyond.
Eleanor comes to the Civic Consulting Alliance from Embarc, an education nonprofit combating the opportunity gap by providing access to transformative experiences for Chicago high school students. As Director of Strategic Partnerships, Eleanor built a development shop from the ground up, deepening Board engagement and leveraging partnerships to diversify investments and more than double annual revenue in just three years. Prior to that, she served as Director of Development at New Leaders, a national organization developing and creating conditions for great school leaders to succeed as a lever for ensuring student achievement. As a collaborative leader of the Chicago office, Eleanor drove success in securing strategic investments toward projects that advanced New Leaders' standing as a Chicago thought leader key in principal leadership development. Before New Leaders, Eleanor was a member of the Chicago team of the international education organization Facing History and Ourselves. Growing from Development Coordinator to Assistant Director of Development over the course of six years, Eleanor was a key contributor to the local development team, achieving year-over-year double-digit percentage annual growth, significantly expanding the Chicago benefit dinner, and stewarding local advisory board engagement. Eleanor began her career in philanthropy with The Black Star Project as Director of Development, cultivating a nascent development function of a grassroots organization through more strategic institutional investments.
Eleanor earned her B.A. cum laude in History and French from Carleton College, and her M.P.A. with a Nonprofit and Mission-Driven Management Specialization from Stuart School of Business at Illinois Institute of Technology. She is active and engaged in the education, nonprofit, and philanthropic communities, serving on Embarc's Auxiliary Board. She was selected as a member of the 2018 Class of The Allstate Foundation Greater Good Nonprofit Leaders Program, and as a mentor through the Chicago Women in Philanthropy (CWIP) Women's Leadership Mentoring Program. She is also an active member of Women in Development Professions (WIDP) and a former Executive Board Member of the Young Nonprofit Professionals (YNPN) of Chicago.