We get big things done for Chicago.
Civic Consulting Alliance's mission is to make the Chicago region a great place for everyone to live in and work.
Chicago is one of the world's greatest cities, beloved by those who call it home. At the same time, our city is faced with essential challenges rooted in inequitable systems - violence, injustice, poverty, and opportunity gaps - that are complex, interconnected, and have no quick fixes.

Civic Consulting Alliance has an effective model for addressing systemic problems and achieving lasting change - we leverage the power of public-private collaboration, and a unique approach to management consulting, to channel Chicago's proud history of civic engagement. Philanthropy fuels our experienced staff, whose dedication is amplified by our best-in-class pro bono partners' generous commitments. For every dollar we invest in staff, we provide triple in pro bono services to our clients, with nearly $15 million invested in our region's thorniest challenges annually since 2010. We are the best at what we do, and uniquely qualified and positioned with the trust, experience, and credibility needed to succeed. We serve as an invaluable component of our region's civic infrastructure, and we aspire to remake systems to be more just, equitable, and resilient.

We achieve impact in three key platforms that are integral to improving quality of life and creating a region that can reach its full potential – building safer and more just communities, ensuring equitable access to education opportunities and outcomes, and growing an economy that works for everyone. Within each platform, we serve public and social sector clients working at a systems-level toward inclusive and equitable solutions. We leverage our institutional knowledge, and deep public and private sector relationships, as well as data, research, and analysis, to inform clients' decisions. We provide the flexible and responsive capacity and expertise that our clients need to design their own solutions, and to build infrastructure to make them sustainable.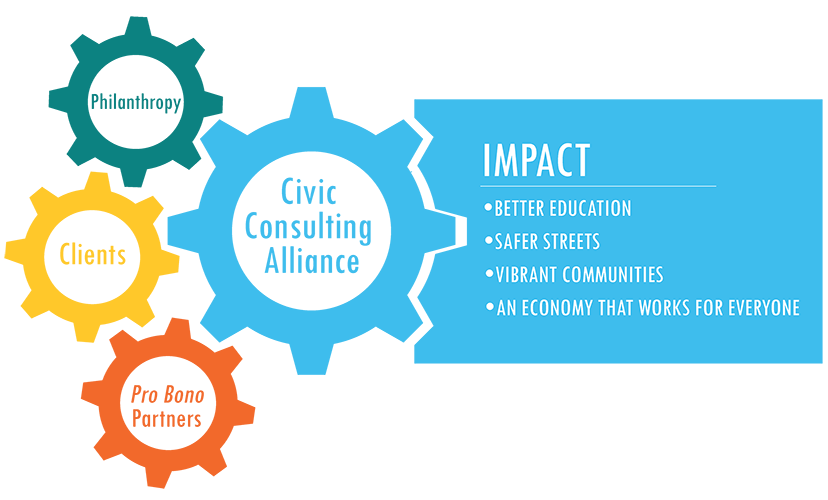 Collaboration
We bring together partners from the public, private and non-profit sectors to invest in solving the most challenging issues facing our region. We select projects carefully, ensuring resources are devoted to areas where they can make the greatest impact.


At Civic Consulting Alliance, collaboration means we value our diverse professional talent. We treat each other with respect and appreciate the uniqueness of each individual. We work to listen and understand our colleagues' perspective to embrace different identities and experiences.
Impact
Using our cross-sector relationships, longitudinal knowledge of public sector issues and private sector management skills, we drive practical solutions and measurable results that would not be possible without our involvement.



At Civic Consulting Alliance, impact means we harness diversity of thought. We ask each other critical questions and provide suggestions to advance our thinking and maximize impact. We proactively reach out to our colleagues and external stakeholders to benefit from broad perspectives.
Leadership
We are curious, courageous and independent, daring to take on the region's toughest problems and persevering until we meet our goals. Through our work, we develop future civic leaders from among our team, our pro bono partners and our client organizations.

At Civid Consulting Alliance, leadership means we empower initiative taking. Everyone is supported and responsible to make Civic Consulting Alliance the place he or she wants it to be. We all contribute to the success of our Firm and our colleagues.
Sound judgment
We maintain a big picture perspective to help our clients stay focused on the key long term issues despite day to day challenges. We honor our clients' confidentiality and hold ourselves to the highest standards of integrity.


At Civic Consulting Alliance, sound judgement means we use impact as our measure to achieve balance. We prioritize and actively manage our collective and individual work loads through a lens of impact, both to drive positive change for the region and to efficiently manage our internal operations.
Excellence
We set and achieve ambitious goals for our clients, our partners and ourselves. We hire and partner with the most talented individuals and firms in pursuit of those goals. We bring simplicity and clarity to solve complex and ambiguous problems.


At Civic Consulting Alliance, excellence means we accelerate our development. We take on stretch roles and actively provide feedback and coaching to support each other through them. We encourage risk taking that drives innovation for our Firm and personal growth.
Diversity, Equity and Inclusion Statement
Through all of our values we commit to creating a vibrant organization in which people from many backgrounds experience a sense of belonging, have the opportunity to be heard, and contribute and excel in driving equity in our region.
Our story of partnership
The unique Civic Consulting Alliance model began with a single request from Mayor Harold Washington in 1985. But we trace our roots to the formation of the Commercial Club of Chicago more than a century ago.
Read Complete History