---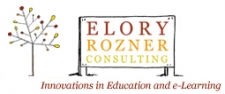 Elory Rozner Consulting
Elory Rozner Consulting collaborates with clients in the public, non-profit, and private sectors in the areas of education and e-learning.
The company's creative, iterative development process results in the publication of innovative, signature programs and exhibits. The company facilitates development from conception through launch, working with staff on brainstorming, research, concept development, pilot testing and revision, launch, and continued evaluation.
Elory Rozner's research-driven process results in a plan for growth and a redefined education program menu aligned with each client's organizational mission. The company works with its clients' staff to define mission and vision, facilitate brainstorming, research industry best practices, and recommend action.